When your cats start to jump onto the thin door frame and seem about to stumble any minute they cross their legs, which scares the hell out of you, it is definitely the time for us cat parents to get them cat trees. Cat trees not only answer their natural instincts, but also elevate a corner of your house with aesthetic designs. In this article, we are unveiling some useful tips in terms of picking the right cat trees, as well as introducing a trendy style, the flower cat tree, for your cat-friendly house.
Why Cats Jump Onto Your Door Frame?
Perching from the door frame allows kittens to feel safe, mark their territories, as well as scratch their claws with the wood-texture door from time to time. Cats have natural hunting and territorial instincts.They feel safer when they are up high, away from potential predators or other animals that may pose a threat. They are also territorial animals and often use height as a way to establish and defend their territory.
Why We Need Cat Trees?
It might be really chilling for kitties to take a high ground, but such behavior can be really dangerous for both humans and animals. Although scientific results show that kitties can fall as far as 20-story, jumping from the height can still pose high risks to cats' joints and paws, especially when the door is close to any edgy objects. Your doors can be really shaky and unstable after long-time weight increase, even falling off at some point. So, to counter all the problems at once, you can substitute your door frame with cat trees in the future. According to Michelle Meyer, DVM, a veterinarian and president of the American Association of Feline Practitioners, "all cats need access to important environmental resources, including food, water, litter boxes, rest and sleep areas, and elevated areas or perches," like those cat trees provide. Chic cat trees, like Venturi flower cat trees, can add a little joy to your room particularly.
How to Find the Right Flower Cat Tree?
1. Match the Size of the Cat Tree with the Size of Your Cat
Bigger size of a cat meaning heavier in weight, more space for perching, and less bouncing ability. The difference in size leads to different flower cat tree choices. If you have a large cat, meaning one weighing over 10 pounds, you want to be sure that the flower cat tree you purchase is sturdy enough to support it. You might need to find a cat tree with a wider, heavier base that won't tip over when your kitties jump upon it. It is recommended to purchase a cat tree that has bigger perches that can fit your pet comfortably. For example, the Flower Shape Cat Tree from Zezelife has larger platforms for large cats. If your cats are too heavy to climb up to the flower cat tower above, Zezelife also has another design, the Flower Tunnel Cat Tower, with lower height.
2. Find Your Cats' Favorite Texture
The flower cat tree should be comfortable for your cat, with soft and cozy materials that your cat will enjoy resting and sleeping on. Some cats, like the Sphinx, might have different preferences to, let's say British Shorthair due to different features and habits. Cats also have different preference when it comes to textures—some like corrugated cardboard, whilst some like jute, seagrass, or sisal (rope). Before you buy a flower cat tree, try to find out which texture your cat prefers. Zezelife offers so many different texture options for every kitten. The Modern Flower Cat Tower, for instance, is plush and soft with comfortable cushions, while the Three Tier Flower Cat Tree increases the volume of ropes, aiming at rope-lovers.
3. Incorporate More Fun Into One Flower Cat Tower
The ultimate goal to purchase a flower cat tree is to please your lovely kitties. If the flower cat tower is designed to be functional and provide a variety of activities and features to keep your cat entertained and engaged, you can make a better deal by getting one flower cat tree but serve multiple needs of your cats. The Pink Flower Cat Tree, for example, includes multiple routes for cats to climb to the top. It is also attached with tassel-like small fluffy balls. I bet your cats will be so obsessed with it and spend time on it all day long. You can also look for cat flower trees with scratching posts, toys, and other interactive elements.
4. Get Your Cats A Steady and Firm Cat Tree Plant
To ensure the safety and health of every cat, every cat tree flower should be tightly connected to the branch. The base of the flower cat tree should be stable and sturdy, so it would not wobble or tip over when your cats jump or climb on it. The main branches that stick out should be solid and heavy material, not hollow, so it won't be easily bent or deformed after long-time use. The Potted Flower Cat Condo from Zezelife is a good example of a solid and wide base. It is designed in accordance with the light-head-and-heavy-foot principle, so the flower cat tree won't tip over easily. Just remember to look for a flower cat tower with a wide base and strong materials, such as solid wood or heavy-duty PVC.
Flower Cat Tower is a fun and safe place for our fluffy friend and it should also serve the decorative function of an animal-friendly house. The flower cat tree should be aesthetically pleasing and fit in with your home decor. One secret to quickly pair the cat flower tree to your existing style is to find a flower cat tower in the same hue as your house. If you're going for a minimalist design, you can check out the Modern Flower Cat Tower. If you like colors, go for Flower Shape Cat Tree or Pink Flower Cat Tree. Look for a design that complements your personal style and color scheme. It is an item that works for both humans and pets.
Shortcuts here to view specific product:
Curved Leaf Platform
Surrounding Cat Bed
PP Cotton Filling
Thickened Weighted Bottom Plate
Wrought Iron Trunk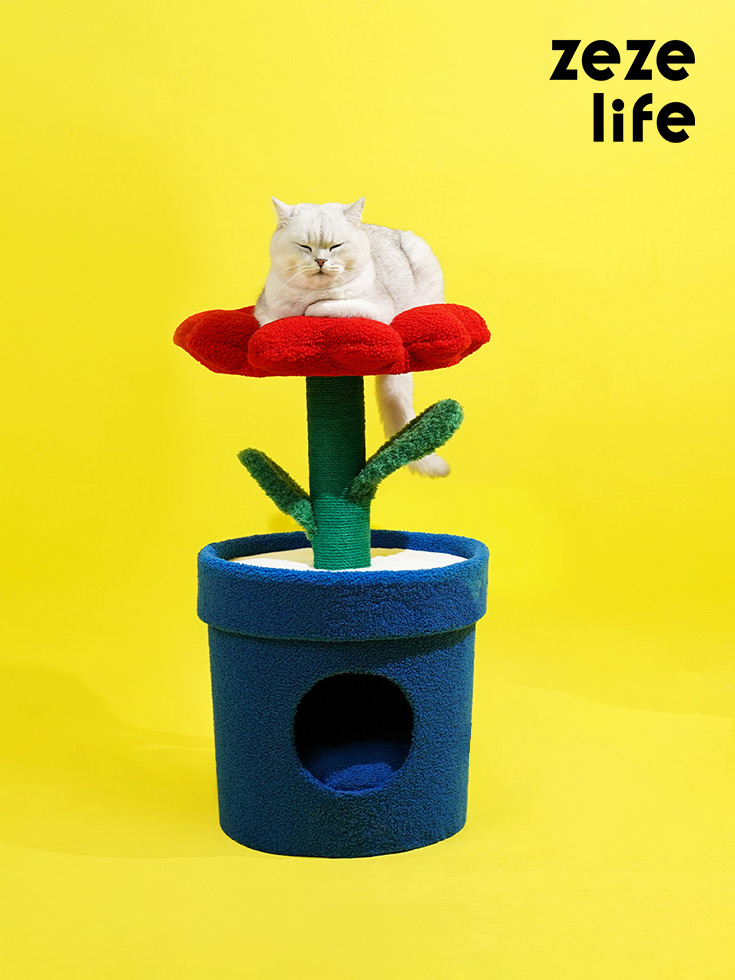 Weighted Base
Fantastic Potted Plant Design
Detachable Inner Cushion
Selected Fine Velvet
Hemp Rope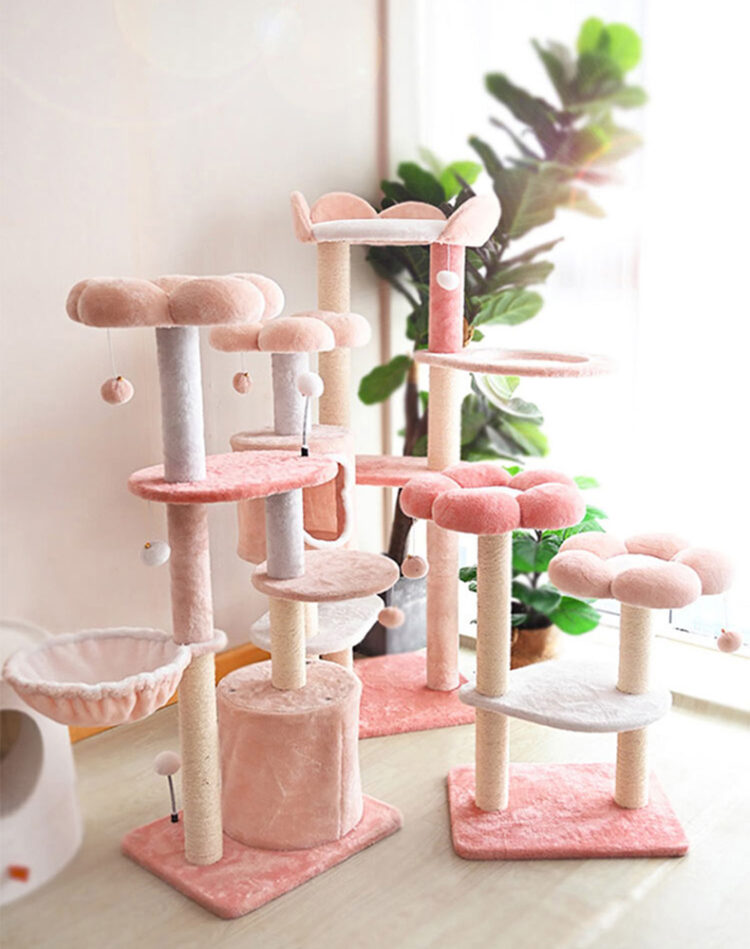 Pink Flower Design
Soft Platform
Transparent Cat Bed
Selected Short Plush
Funny Cat Ball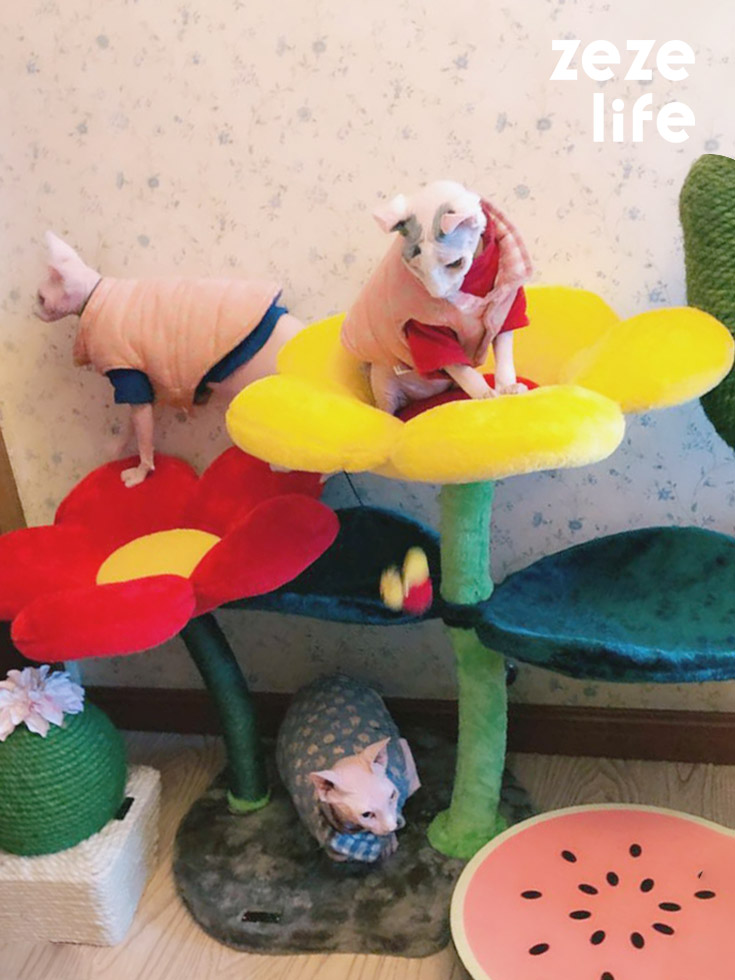 Flower Design
Flower Terrace
Fun Pendant
Selected Sisal Rope
Easy AssemblySturdy Base Board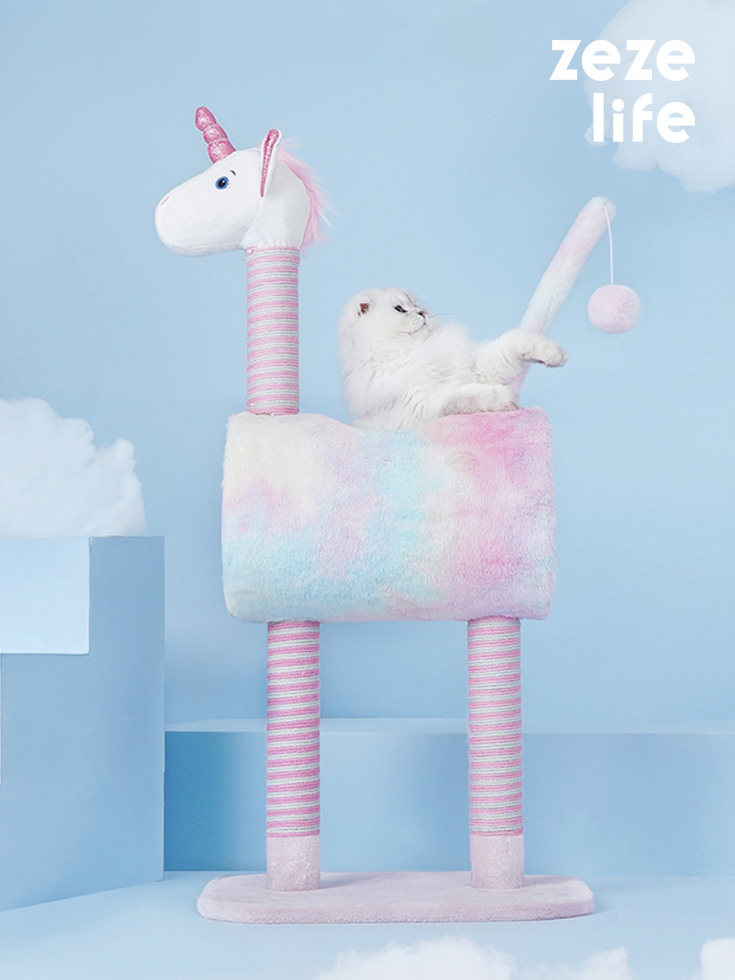 Unique and Magical Design
Multi-functional Design
Comfortable and Cozy
Interactive Play
Premium Jute Rope